Subaru Body Style Guide
Do you remember when you turned 16 and received your first driver's license? You went through a year of having to drive with someone else before you were able to be on your own. When that day came, and you saved up for your first car, and at that point, you didn't care what it was or what it looked like. Your number one priority was to make sure it started and got you from point A to point B. Now fast-forward, you have three children, and your needs and wants have changed. You care about comfort, cargo space, and legroom for 2nd-row passengers. Being aware of the various body styles available to residents of Moncton, Shediac, Bathurst, Amherst, Nova Scotia, Riverview, and surrounding areas of New Brunswick is important. At Moncton Subaru, we have a New Vehicle Inventory that features a wide range of body styles; one is sure to fulfill your needs and wants. Visit our Finance Centre and get pre-approved for a new Subaru quickly and easily.
Subaru SUV: Forester & Ascent
The Subaru Forester and Ascent are the two of the most capable vehicles Subaru offers. Both offer a four-door experience with easy access to the cabin. The Outback isn't really a body style because of its unique lines and stance. It combines the best of two worlds; the crossover and station wagon. There is plenty of cargo space, ample ground clearance, and Subaru's legendary all-wheel-drive system. While the Ascent is a seven-passenger people mover and offers all the great attributes of the Outback but with more seating.
Subaru 5-DOOR: Impreza and Crosstrek
Hatchbacks offer a level of style and practicality that sedans just can't match. The Impreza and Crosstrek offer plenty of interior space with ease of access. The 5-door style allows for more cargo space in the rear because the rooflines continue to stay high versus a sedan. If you want cargo space but don't want a larger SUV, the 5-door hatchback is the best vehicle for you.
Subaru Sedan: Impreza, Legacy and WRX & WRX STI
If you have been accustomed to a sedan, maybe because that's all you've known, then Subaru has a great line of vehicles for you to choose from; the Impreza, Legacy WRX, and WRX STI offer all the practicality and convenience that Subaru offers. If you're looking for performance, then the WRX and WRX STI is the vehicle for you. The Legacy is Subaru's largest sedan and offers exceptional space and comfort.
Subaru Coupe: BRZ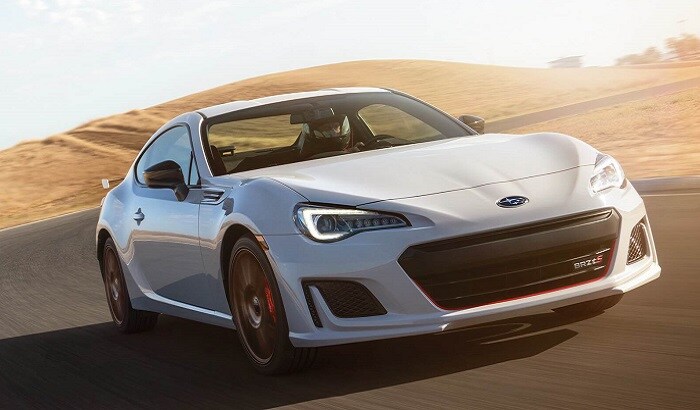 The 2021 Subaru BRZ is a sporty 2-door coupe that offers fantastic performance and a unique design. A distinctive feature of a coupe is that the roofline begins to taper right after the front seats. This is what gives the BRZ is fastback look; with 2 + 2 seating, you are ready to go anywhere.
Subaru Wagon: Outback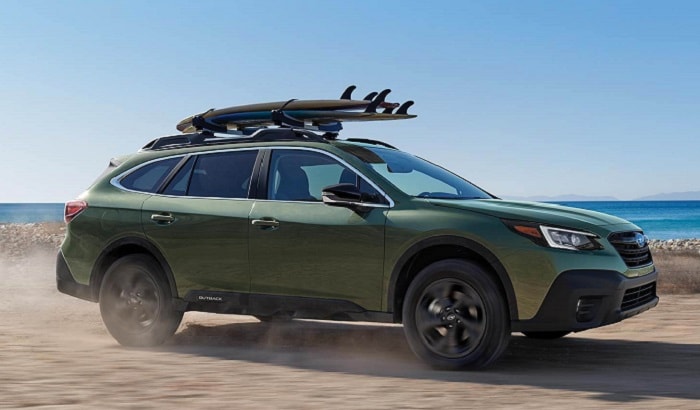 The Subaru Outback is a unique vehicle with a special place in the hearts of consumers. Not quite an SUV but not a crossover; it is a blend of both with their benefits. The Outback features great power, excellent ground clearance and fantastic cargo room. The Outback is a vehicle that does it all and one of Subaru's most popular models.
Frequently Asked Questions
What body style is a Subaru Outback?
The Subaru Outback is kind of in between two different body styles. A Wagon and an SUV, but it leans more towards a Wagon.
When did Outback's body style change?
The Subaru Outback has kept its body style consistent for quite some time. However, an Outback sedan did exist and was discontinued in 2007.
What type of vehicle is a Subaru?
Today, the Subaru brand has become one of the most well-known automakers on the planet. One of only a few manufactures that utilize a horizontal piston arrangement; the boxer engine. They offer sedans, SUVs, crossovers, and hatchbacks. Their legendary all-wheel-drive system is known worldwide, and the foundation of success lies in part to Japanese engineering.
Is Subaru Outback unibody?
Yes, the Subaru Outback is designed and engineered with a unibody structure. This adds to its already capable characteristics and also makes it one of the most durable and quietest vehicles in the automotive market. Don't forget at Subaru Moncton, not only do we have a great selection of new vehicles, but our used vehicle inventory features top-of-the-line makes and models. So what are you waiting for?
New Subaru Vehicles in Dieppe, New Brunswick